Library projects
Other selected projects that do not fit neatly in the other categories.
Online learning in the library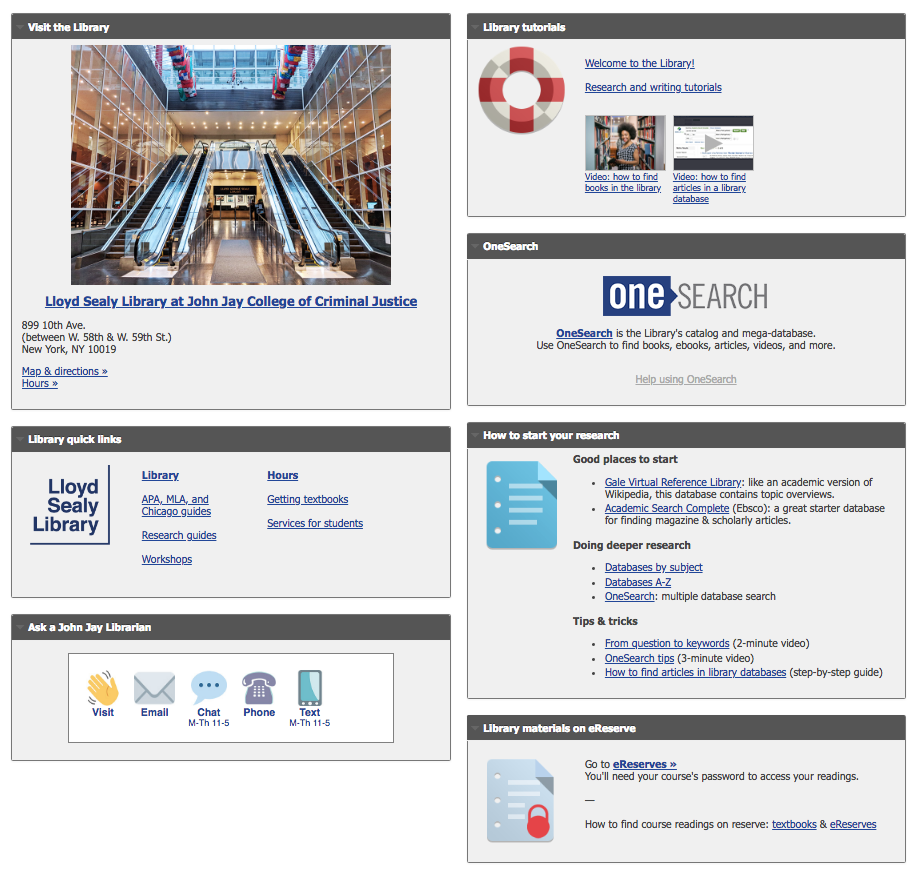 At Lloyd Sealy Library, I spearhead the implementation of library into the Blackboard course management system at John Jay. I created modules that are included in the default course template, so that as of spring 2016, 1,000+ online courses at John Jay include a Library Resources tab. To accomplish this, I collaborate with the Blackboard administrator on my campus. We presented our work in progress at Northeast Connect in fall 2015.
In addition, as a pilot project, I've been an "embedded librarian" in selected courses. For two weeks, I "visit" the class in Blackboard and post relevant library tutorials and resources as the students are preparing a given assignment.
See the Faculty Toolbox for Online Learning for more »
Murder Mystery Challenge
For three years running, first-years and transfer students at John Jay can take part in the Murder Mystery Challenge, a group puzzle designed to walk students through basic research tasks. I wrote and designed the Challenge based on a real murder case, using a 1922 trial transcript in the Lloyd Sealy Library Special Collections. I collaborate with other librarians and our colleagues in the Student Academic Success Programs to organize the Challenge. Students form groups themselves and are guided through the Challenge by a Peer Mentor, an older student who shares their own research tips and tricks.
See the Murder Mystery Challenge »
Social media
I created the Lloyd Sealy Library's Instagram account and post regularly. In addition to library announcements and workshop promotions, I regularly post #Stacksplorations (highlighting books in the stacks) and #TBT Throwback Thursdays (photos from the John Jay College archives). I wrote about using Instragram in a library in a high-traffic post on my other blog.
Along with several other librarians, I post library news and photos to the Facebook and Twitter accounts as well. We collaborate with other social media managers on campus to promote the highest-priority news items. I keep track of social media stats.
(We also explored Pinterest, Flickr, and Foursquare but have let those accounts wither gracefully.)
More
See more projects in progress at Emerging Tech in Libraries, my CUNY Commons blog.